Caribbean project...
Natural beauty, luxurious life style and a first class service for its inhabitants. more
Akkoza project...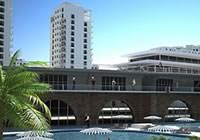 Residential units, shopping mall, hospital, private school and dense natural areas... more
Welcome to intersistem!
You are at the right address for quality service in mechanical installation. We would like to give some information about the services that our innovative and idealist staff provides.
We aim to provide services that exceed your expectations, to help you choose the best according to your requirements and to protect you against unexpected time and budget surprises.
We believe that the most important asset of a company is "satisfied customers" and acting on that motto, both the management and the staff at Intersistem work to increase the number of our satisfied customers with the same desire and eagerness since the day the company has been founded.